Do I Need a Montana Alcohol Server Training License?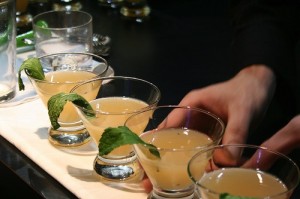 A Montana Alcohol Server Training license for responsible alcohol serving is required for anyone who would like to serve alcohol in the state of Montana. Unfortunately, it isn't always clear when you need training and when you don't. For the most part, alcohol server training and certification is intended to prove that you are licensed to safely serve alcohol without serving to minors, as well as training for the responsible serving of alcohol. The following jobs usually require a certification or alcohol server training in the state of Montana.
Servers
Whether in a restaurant or a bar, any server including waitresses, waiters, barbacks, or even busboys that fetch drinks must have alcohol server training. This is because it is required that anyone who serves alcohol be able to do so responsibly. This includes recognizing intoxication, checking and verifying age, and serving in responsible amounts. State law requires that no more than one alcoholic beverage is served per person at once, and that free alcoholic beverages cannot be offered to anyone in a public setting.
Bartenders
Most bartenders know that they need a Montana Alcohol server certification in order to bartend, but if you're looking into the job, starting as a server with your Montana Alcohol Server Training is the best way to break into the career.
Managers
Something that many bars and restaurants do not consider is that it is legally required for managers overseeing the sale of alcohol to have alcohol server training. Even if the manager will not be physically serving the beverages themselves, they still need the training. This is because the manager oversees everyone else, and therefore it is most important that they know the full extent of server law and responsible serving in order to uphold it at all times. Owners fall under the same category and must legally be certified in order to sell alcohol on the premises.
Bouncers, Security, and Hosts
While not everyone in this category requires an alcohol server certification, most do. The line is drawn at checking identification for the control of alcohol sale and consumption. Anyone who checks IDs or refuses the sale of alcohol must be certified under Montana law. Therefore any indoor security, anyone refusing entrance to minors, and anyone controlling the sale of alcohol must be certified.
Cashiers
Most people are not aware that a cashier selling alcohol in a bar, restaurant, grocery store or liquor store must have an alcohol certification, but it is a fact. Another consideration is that it is required by law that cashiers be a minimum of 21 years old. This is different from the 18 year old age limit for servers in restaurants and bars. Most of the time, anyone who has anything to do with the preparation or serving of alcohol should have a Montana Alcohol Server certification.
Furthermore, anyone who controls the sale, or watches over and hires people serving alcohol should be certified as well. Using this rule, anyone under either of these categories should get their Montana Alcohol Server Training.
Tags: Montana Alcohol Server Training, jobs that require an alcohol permit