The Vesper - James Bond's Signature Drink
Need to know how to make a Vesper Martini? We have the recipe for you!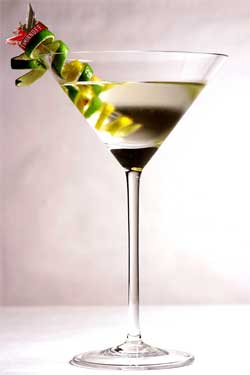 "A dry martini," he said. "One. In a deep champagne goblet." "Oui, monsieur."
"Just a moment. Three measures of Gordon's, one of vodka, half a measure of Kina Lillet. Shake it very well until it's ice-cold, then add a large, thin slice of lemon peel. Got it?"
"Certainly, monsieur." The barman seemed pleased with the idea.
"Gosh, that's certainly a drink," said Leiter.
Bond laughed. "When I'm . . . er . . . concentrating," he explained, "I never have more than one drink before dinner. But I do like that one to be large and very strong and very cold and very well-made. I hate small portions of anything, particularly when they taste bad. This drink's my own invention. I'm going to patent it when I can think of a good name."
And thus the stuff of legends was born. In Casino Royale, James Bond pulls this drink out of thin air. Of course, a Vesper isn't Bond's usual cocktail of choice (the martini), in that it uses both gin and vodka, Kina Lillet instead of the usual dry vermouth, and a lemon peel instead of an olive.
But the secret to the Vesper is the Lillet Blanc (Lillet has long since dropped the Kina as part of their name). Lillet is a citrusy, grassy, wine-like drink; in this case, used instead of dry vermouth. It's generally an apertif - in France, you might drink it on the rocks with a wedge of orange - but in the US it's commonly used as a cocktail ingredient. Lillet is aged much like wine and comes in red or white. For the Vesper, you'll need white.
Vesper Martini/Vesper Cocktail:
3 oz London Dry gin 1 oz vodka 1/2 oz Lillet Blanc 2 dashes angostura bitters
Of course, that's a fairly strong drink with approximately 4.5 oz of alcohol. In our Alcohol Server Training we teach our students how to look for signs of intoxication - one of the basics of responsible alcohol service and sales. AACEA promotes responsible alcohol service and sales and offers online alcohol server training in Washington. For more information about your alcohol permit visitwww.aaccea.com
Tags: alcohol online, alcohol classes seattle, certified alcohol servers, responsible alcohol service, alcohol server training, server training, bartending license, bartending certification, wa state alcohol server, vesper martini recipe, drink recipes online