Recipe: Use Your St Germain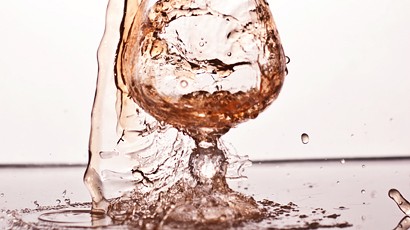 The history of the popularity of St-Germain liqueur isn't long - it is by many accounts the "it" liqueur right now, and its popularity seems to have come out of nowhere. Made from elderflowers grown in the French Alps, St-Germain is refreshing and mixes well with many different ingredients. It's slightly sweet and a bit floral, and the St-Germain cocktail could be called the thinking woman's Cosmo. In other words, if you've got a client you want to impress, having a bottle of St-Germain stashed away will up your stock. A good mixologist will have St-Germain on hand.
There is no denying its prominent place on the best cocktail menus from L.A. to London. This is also a high-quality liqueur is made from delicate flowers and is best when used in a simple recipe. This recipe is the most straightforward way to appreciate St-Germain's flavor short of sipping it straight.
St-Germain Cocktail
Ingredients: 2 parts champagne or dry sparkling white wine 1.5 parts St-Germain 2 parts club soda
Instructions: Fill a Collins glass with ice. First, add St-Germain, then champagne, then club soda. Stir well, and garnish with a lemon twist.
If you haven't got a bottle of champagne open, there are a few other ways to enjoy this delicious liqueur:
Elderflower Collins (Cocktail) - Gin, Lemon Juice, Soda, St-Germain Elderflower Liqueur
French Apple Martini (Martini) - Lemon Juice, St-Germain Elderflower Liqueur, Vodka
Part of becoming a better bartender is being knowledgeable about your drinks. Thinking of becoming a bartender? AACEA provides alcohol server training which promotes responsible service and sales of alcohol. AACEA is hosting a raffle for students enrolled in our alcohol server training classes - sign up today and you're eligible to win $100 from AACEA and Len Riggs. To get your alcohol servers permit in Washington visit www.aacea.com.
If you're working in the Hospitality industry and are currently enrolled or enrolling in college, tell us what it means to you to be the first line of defense in drunk driving and you may win a scholarship for $500 through the Len Riggs and AACEA Scholarship to Save Lives Contest. Entries will be accepted until July 1st.
Tags: alcohol online, alcohol classes seattle, alcohol server training, bartending license, bartending certification, certified bartender, washington state alcohol server training, class 13 permit, class 12 permit, alcohol training online, washington alcohol server training, drink recipes online, alcohol recipes, st germain recipe, st germain lemon recipe