"Prohibition" Series Looks at Illegalizing Alcohol
From 1920 to 1933, the US 18th Amendment, or Volstead Act banned alcohol countrywide. Now, a new series on PBS titled "Prohibition", and produced by filmmakers Ken Burns and Lynn Novick shows the motives, methods, and melee that occurred when alcohol was banned in the US according to Zap 2 It.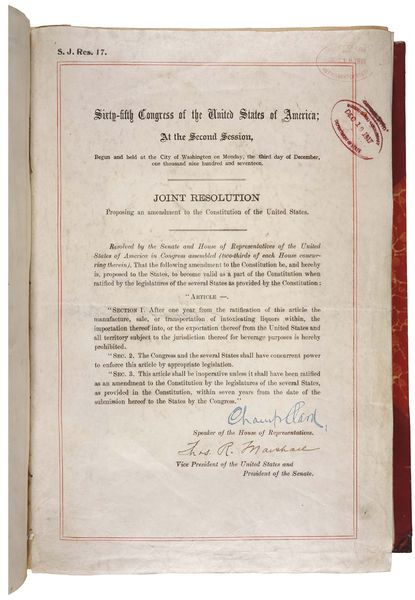 Alcohol was considered one of the original sins of America, spurring the movement to ban the substance. Burns and Novick's series highlights the consequences of the Volstead act, including the criminalization of the alcohol industry and the rise of violent gangs as a result. Its prohibition gave rise to gangsters like Al Capone, and police were paid to look the other way. Speakeasies popped up, around the country, and in the more elite populations, cocktail parties became popular.
The support of and opposition to Prohibition represented competing strains of American thought. Where the "Roaring Twenties" introduced more progressive thought, the Temperance Movement which supported Prohibition, looked to take away certain American freedoms. The filmmakers note that while alcohol can cause social problems, it has also been a large part of human society for ages.
Says Novick, "There were many, many problems with Prohibition, but one was a fundamental misreading of the place of alcohol and also the fact that alcohol, inherently, is not bad for everyone."
"It coincided with this great liberation of the Jazz Age and the Roaring Twenties economically," Burns says. "The only thing that's going backwards is Prohibition. Everything else is going forwards; half the country becomes lawbreakers. It is a descent into hell paved entirely with good intentions."
At AACEA, we're committed to bring you news and reviews on events in the hospitality and beverage industry. AACEA provides online alcohol server training and certified bartending classes. To get your mandatory alcohol server training certificate today vist www.aacea.com. Each month, AACEA raffles off $100 to one of our MAST students.
Tags: alcohol online, alcohol server training, bartending license, bartending certification, mandatory alcohol server training, alcohol news, MAST training, MAST certification, Alcohol certification, prohibition, prohibition documentary