Become a Better Bartender: Know Your Customers
One of the best ways to become a successful bartender is to know your customers. Knowing your customers means using the customers names to build rapport, reading your customers, and anticipating their needs. Learn to remember names - if not long term, at least for the night. Pay close attention your customer when he walks in - and strike up conversation. The better you are at learning about and remembering your customers, the better you'll be able to serve them.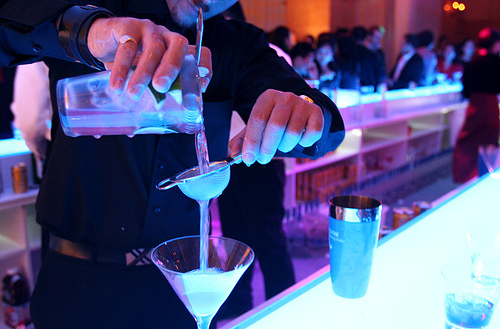 When it comes to using and remembering your customers names, you might cringe; however, nothing captures your customer's attention and confidence faster than hearing his own name. You don't need a stellar memory - just find a way that works for you and stick to it. You might try name association; for example, Stella likes Stella Artois, Jerry likes Jack and Cokes. You could also try repetition; such as, "Hi, Dave!" and later, "Is your drink okay, Dave?" "Dave, can I get you anything else?" It sounds sort of silly, but it definitely works. There's no way to remember every customer's name, but try either of these tricks and you'll be amazed when - a month later - you remember the name of that familiar face at the bar!
Learning a customer's name is a great way to get them talking, and talking with your customers clues you in to a few things. Are they chatty or reserved? A quick chat will put your customer at ease. Are they grumpy or do they seem happy? Alcohol seems to exaggerate moods, so you might be more cautious about how much you serve a sullen customer. Are they easy to talk to? You'll be better able to assess when enough is enough - for example, are they slurring? Has their reaction time dropped drastically? Pay attention to these clues and you'll know when to pour and when to say, "No more." Paying attention to these clues will also help you remember to check back in with your customers and anticipate their needs. You want bright, smiling faces around your bar and striking up conversation is a good way to engage your customers.
AACEA provides alcohol server training that promotes responsible alcohol sales and service. Get your Washington alcohol permit online. For more information on Washington alcohol certification and to take your class from the comfort of your home visit www.aacea.com.
If you're working in the Hospitality industry and are currently enrolled or enrolling in college, tell us what it means to you to be the first line of defense in drunk driving and you may win a scholarship for $500 through the Len Riggs and AACEA Scholarship to Save Lives Contest. Entries will be accepted until July 1st.
Tags: alcohol classes seattle, alcohol server training, server training, bartending license, bartending certification, mandatory alcohol server training, washington state alcohol server training, alcohol training in washington, alcohol permit, class 13 permit, class 12 permit, alcohol training online, MAST certification, washington alcohol server training, alcohol classes alcohol online