Extra Dry or Brut? A Primer on Champagne, Part I
"Come quickly, I am tasting stars..." Dom Perignon, after his first taste of Champagne,
Do you know the difference between an extra dry and a brut champagne? Can you tell a Cava from a Prosecco? Do you know what bubbles from Napa are called, or what makes it bubbly in the first place? If the answer to any of these questions is NO, you're not alone. The confusion may stem from the bubbly elixr's ubiquitos misrepresentation (not all sparkling wines are champagnes), and the confusion between the name, and the taste.
Champagne Campaign!
Champagne is a sparkling wine that comes ONLY from the region of Champagne, France.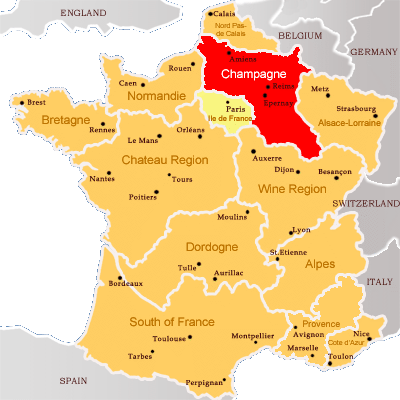 Any other bubbles calling themselves champagne that do not hail from the region north of Paris are not. They're generally considered "sparkling wines". As Drinknectar.com notes, "While it might sound like French snobbery to some, they developed the process, so I think they deserve to lay claim to the name." We agree.
For sparkling wines that come from outside the Champagne region, the French have reserved the terms "Mousseux", "Crémant" and sometimes "Blanquette". Blanquette is generally a white from Limoux and the sparkling Blanquette actually pre-dates champagne.
When buying, look for the words "méthode champenoise", which means the wine has a second-fermentation in the bottle. This extra fermentation is where the bubbles come in. This is in opposition to the charmat method (and most any other kind of fermentation), which actually requires a large tank. Here, the carbon dioxide is injected while the wine is in stainless steel tanks (rather than fermented in its' own bottle), and is bottled under pressure in a continuous process.
Dry or Brut?
These terms often confuse bubble-buyers. Many would think of a dry wine as being just that - not sweet. However, when it comes to champagne and other sparkling whites, this option is often the sweetest. When looking for a drier bottle, keep this in mind:
Extra Brut (The driest - Pucker up! Many enjoy this extra dry sparkling wine)
Brut (Highly recommended)
Extra Dry (Which is not as dry as Brut)
Dry/Sec (Much sweeter than Brut)
Demi-Sec (A great dessert wine)
Doux (Maximum sugar)
Most champagne is made as a "
cuvée
" - a blend of 3 types of grapes, typically 2 white and one red. A
Blanc de Blancs
will be made entirely of white grapes, and is generally more delicate, while a
Blanc de Noirs
is a white wine made of red/black grapes. The
Blanc de Noirs
is generally more robust, with a golden color. You may also see bottles of
Rosé Cuvée
which means just a touch of red wine is added to give it the pink color.
Rosé Cuvée
is not to be confused with rosé wines.
Serving Recommendations
Champagne is best served cold - between 43 and 48 degrees Fahrenheit. To get your champagne to this temperature, leave it in the fridge for a few days before opening. Never put champagne in the freezer, since contents are under pressure and bottles have a tendency to explode in freezers. We've also read that the quick chill can ruin the aromatics. If you need to chill champagne quickly, put it in an ice bucket filled with half ice and half water for about a half hour.
When pouring, always pour the glass 3/4 full, in tall champagne flutes.
America's Alcohol Certified Education Association provides online alcohol server training - to get your alcohol server's permit or to take alcohol server training classes in Washington and Oregon from the comfort of your own home, visit www.aacea.com.
Tags: bartending certification, alcohol classes, be a better bartender, become a better bartender, alcohol classes alcohol online